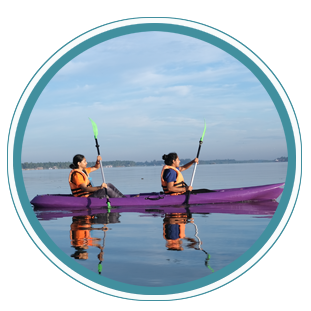 Mangrove Exploration Kayaking Session
2 Hours
RS. 1,000 PER PERSON
Embark on an unforgettable 2-hour Mangrove Exploration journey with us. Our NIWS Certified Kayak Instructors will teach you the essential kayaking techniques and accompany you throughout the session, ensuring your safety and providing continuous guidance and support.
In these 2 hours, paddle through the serene backwaters of the Swarna River and immerse yourself in the enchanting beauty of the coconut trees along the way. As you paddle and reach the Mangrove Forest, the lush green ecosystem creates a peaceful atmosphere. Here we will take a moment to step off our Kayaks and explore the sandy shores, capturing stunning photographs and creating treasured memories.
As you paddle through the mangroves, be mesmerised by the diverse bird species that call this habitat home. Look out for the vibrant kingfishers, sea eagles, egrets, and other non-migratory residents, adding a symphony of sounds to your experience.
Our 2-hour Mangrove Exploration promises a unique opportunity to connect with nature, witness fascinating wildlife, and embrace the cultural heritage of Udupi.